Holy buckets. I just opened this page and realized it's been a year since I posted anything. Not long after my last post I found out I was pregnant with twins and it's been a whirlwind ever since. My identical twin boys arrived seven weeks early, right in time for Christmas, and turned our world upside down.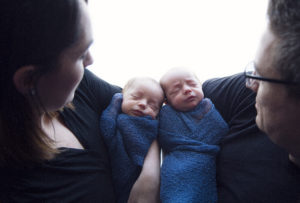 I stayed home with them for 4.5 months before returning to work (day job, not writing) part time at the end of April and then full time at the beginning of June. I kept my sanity by releasing Who She Was on May 4. It was great to work on a book launch while at home with the boys. I hired an assistant (HOLLA MAGGIE – you're the best!) who took care of so much, but I still planned out the launch and had such a ball doing it.
Who She Was holds a piece of my heart. It takes place in my city (Des Moines) and touches on some tough teen topics that have been top of mind due to some Netflix series' that came out lately.
Here's the blurb:
Childhood friends reunited. One twisted by tragedy. The other living a lie.

Trevor Adler just saved his former best friend from a disastrous dating auction, but he has an agenda: to find out why she cut off contact four years ago and if the girl he used to know is still buried beneath her too-perfect façade.
Charlotte Logan is hiding from the truth and knows Trevor is the only person who can uncover it. He's the last person she needs and the only one she wants.
But Trevor has secrets of his own, and when the police come calling, he must finally decide whose life he's living.
Fate brought them back together, but Trevor and Charlie must decide if saving each other matters more than saving themselves.
—
Unlike my Bound series, you can only find Who She Was on Amazon (for now). But that also means if you subscribe to Kindle Unlimited, you can read it for free.
If you haven't given it a look, you might. It's getting great reviews and it's the work I'm most proud of to date. (Side bonus: It also includes original lyrics from a local Iowa musician, Dick Prall).
I've also just started my re-read on the work I did on Bound book four last fall, with the hopes of starting writing this summer for a 2018 release. There's no telling how long it might take with these two little dudes on board, but I'm going to get it done. Promise!
I hope life is well for you – let's talk sooner than later. 😉