You've waited so patiently, and now I can finally share that Bound by Prophecy will be released on November 12, 2015! Can I get a woot, woot??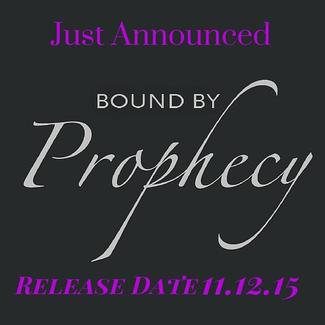 I am currently in editing madness, which translates to me spending every night in my desk chair going line by line through all 90,000 words to make sure they are as fantabulous as possible. You can rest assured that you will see all of your favorites back again in Prophecy, and you miiiight even get a peek in someone new's head.
I am in the midst of finalizing the cover with my designer (stay tuned on September 10 for the reveal!) and cannot wait until August 22, when I had this bad boy off to my trusted beta readers. 
For those who didn't get to see the live events, I did confirm that there will be more books in the Bound series, but Prophecy completes Aidan and Amelia's story. I've left enough doors open that there is more to tell and new story lines to explore. What I can't tell you is when you'll see the next Bound book. Don't fret, it will come, but this girl needs a teensy break from fantasy. I'll be delving into a new genre with my next read. Stay tuned for details!
XO,
Storm