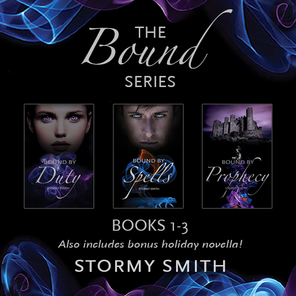 The last few months have been intensely reflective for me. I've dug deep into processes, goal-setting, visions for my future and really focusing in on the life I want to live.
It's an insane thing to think less than two years ago I had only just finished the first draft of Bound by Duty (back then it was still titled Duty Bound!). I had no idea what you all would think of that book or if others would follow. But, you've blown me away with your support and you keep asking for more!
I know if you're here, it's because you likely already own all of the books in the box set, and for that, I will be eternally grateful. From the depths of my soul – the creative, word nerding, world-building soul I never knew I had – I am so grateful.
When I decided to make the box set of the Bound series it was for a few reasons, but one of them was simply because we are all bingers are heart. We want to wait until something is complete and then power through so we can connect and attach and love every second in that new world. The second reason was this is Amelia's story and I told you at the end of Prophecy that it was complete.
You can look for a Bound novella toward the end of this year and a full-length Bound book in 2017. We're getting into new characters' heads and the Immortals will continue to manage the new world and regime they're faced with.
Until then, please consider sharing these links with a friend you know who is also a lover of fantasy and generally a binger. I'm sure they'll appreciate the quick catch-up, and you'll have someone to commiserate with until I get that next book out! 😉
Much love, 
Storm
---
Bound Series Box Set