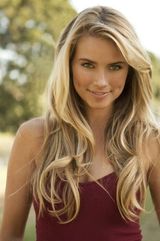 Name:
 Bethany Marie Jackson
Age: 18
From: Cleary, Mississippi
Hobbies: Formerly a pageant queen and barrel racer. Currently a connoisseur of frozen yogurt, collegiate California surfers, DIY decorating her first apartment with her new bestie and watching romantic comedies.   
Music taste: Anything pop, top 40 and classic country. But, she only breaks out Merle and Johnny when she needs to reconnect with herself.
Favorite colors: Black and pink. With rhinestones. Like her beloved cowboy boots.  
What she doesn't want anyone to know: She keeps a box of postcards in her closet. Every state and major town she visits, she buys one to prove she's living her dream of seeing the world. 
What she wants everyone to know: That no matter what life hands her, she'll choose to be happy and make the best of it. She doesn't need anything but good friends and killer pair of heels to make it through. That said, she'd take Prince Charming as long as she had control of the white horse. 
---