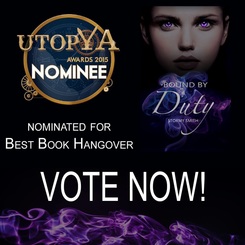 It's been a bit of a crazy few weeks. I wrapped up my Spring semester of grad school, have hit 45k and counting on Bound by Prophecy, and have been planning lots of fun stuff for the summer. Amidst all of that, I found out that I was nominated by a panel of my peers for the 2015 UtopYA awards! It was truly mind-blowing to see my name in the "Best Book Hangover" category next to well-established, well-loved authors from the young adult genre.
That said, the awards are based on public voting and I would LOVE your support. If you think Bound by Duty is deserving, and you agree that when it ended you were sad to leave the world I created and struggled to walk away from my characters (the definition of a book hangover) then please consider voting. I am in category 18 and you don't have to fill out the entire ballot to vote. Here's the link. Voting ends May 21.
I promised a giveaway in addition to the favor, so I am also doing a GoodReads giveaway for two print copies of Bound by Spells. It is open to UK, US and Canada, so if you are in one of those places, please hit this link to sign up!
Stay tuned, I'll start posting some little teasers from Prophecy in the next few months as I finish the first draft and start editing. The story is really coming together, I can't wait to share it with you!
---