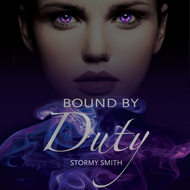 I am so excited to share that Bound by Duty is now available in audiobook format! I worked with an amazing narrator, Kristin James, who brought all of the humor, emotion and sass I had hoped for. If you know someone who enjoys audiobooks, please point them my way. And, for fun, go listen to Kristin rock it in the prologue sample!
Buy the Bound by Duty audiobook:
– On Amazon
– On Audible
– On iTunes
If you do decide to check out the full book, please consider leaving a review wherever you purchased. They make such a difference and I read every single one.
Cheers!
---